InvestEdge

How might we make investment documents easier to analyze with AI?

Design for an AI-powered investor analysis tool


---
---
Time
Concept: 2 weeks, group
Design: 3 weeks, solo
Skills
Visual + interaction design, prototyping, 3D rendering
---
Overview


For our final project, our class was assigned to match AI capabilities with user needs. I worked with a small team, finding that financial documents were lengthy and difficult to analyze. We realized that we could solve this for users by using the powerful NLP capabilites provided by ChatGPT.

After our class ended, I dove deep into our concept on my own. I reenvisioned the product strategy, visual design, and interaction design.

This evolved into InvestEdge, a financial document analysis platform that uses AI to create a simple and convenient experience for investors to learn about companies that they're interested in.


---
Feature highlights
---
Home page feed
Users can read the latest and most critical news about their portfolio.
---
Reading an annual report
Annual reports are summarized into digestible insights for users to skim. In addition, users can dive into the original text in context.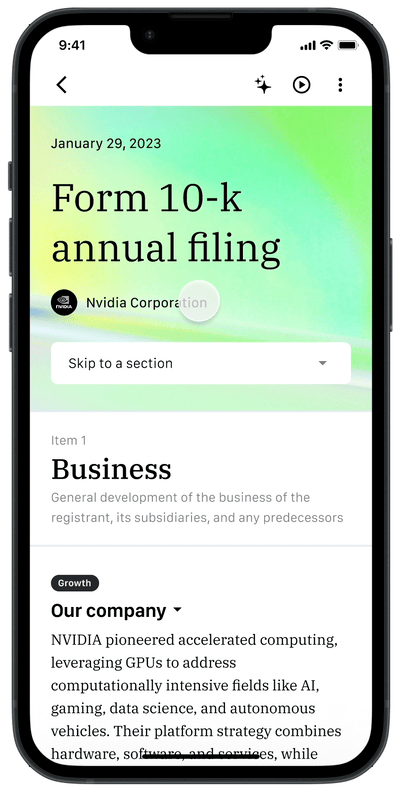 ---
Asking questions about a document
Users chat about insights from a document in a conversational UI.
---
Voice narration
For handsfree interactions, visual impairment, or anyone who just wants to listen.
---
Onboarding
---
Strategy and Research
---

User problem
Financial documents provide critical and timely insight into companies, but they're lengthy, full of jargon, and overall difficult to understand.


The US Securities and Exchange commission requires all publicly traded companies to disclose important information about themselves to stakeholders. Companies can hide negative news from press releases, but they can't avoid these legally mandated disclosures.

However, these documents can span hundreds of dense pages, which are filled with legal and technical jargon. Large investment firms have the resources to comb through these documents, but not the average personal investor.


Shown: 3 out of 170 pages of NVIDIA's 2022 annual 10-K filing
---

Research

Designing for an emerging market of in-depth investors
115%+
Increase in percentage of investors planning to spend more time managing their portfolios –
source
12+ million
Users of subreddits focused on individual stock picking
2+ million
Users of subreddits focused on value investment
A
recent Schwab study
identifies a new cohort of investors after 2020 that are more sensitive to individual stocks and market volatility. Warren Buffett
is famously known
to read hundreds of pages of financial reports every day to learn more about his investments.
Many of these investors carefully read about a company's financial health and statements. For example, here's a Twitter thread highlighting how investors can benefit diving deep into companies in a 10-K.
---

Opportunity

Large language models can simplify, extract important information, and explain financial documents.
---

Considerations

Four design principles when working with AI

InvestEdge should act as a tool for analysis, not something that makes choices.
Designers should be wary of failure cases for LLMs, especially for financial products. The product minimizes risk by reducing predictive or arbitrative language.

InvestEdge should be visually digestible for everyone.
The app simplifies the complex source material of financial documents. Additionally, I've emphasized visual accessibility through a built-in narration feature to accomodate everyone.

Users should be able to view both the big picture and concise insights.
Simply summarizing content is not enough. InvestEdge uses insights and headlines that call out important information. By consistently structuring data, users know where relevant metadata is.

AI-generated content should be distinct from non-AI-generated content.
Users can always differentiate between the original source material of the financial documents and the AI modified/generated text with a consistent icon system.


---

Interaction & visual design

Visual explorations for previous iterations


When I was working with my team creating the initial concept, I started out with a techy feel, going for a visual direction for "people who want to use a bloomberg terminal". This version of the product uses sentiment analysis, where AI would mark each statement as either positive or negative.




However, when I revisited this project, I wanted to make a couple changes. I felt like the previous design was too intense, as it brought up the visual context of day-trading and risky stock picking.

In my next iteration, I moved towards a more readable, less techy, and mobile-focused visual style. I drew inspiration from apps like Medium and Apple News to explore how reading content can be made for everyone.


Initial design system


Finally, I updated the visual style to use serifs, cool colors + cool greys, and a focus on comfort + readability to project an idea of a trustworthy and straightforward experience for the user. I ended up expanding upon this visual identity with a combination of illustration-based elements.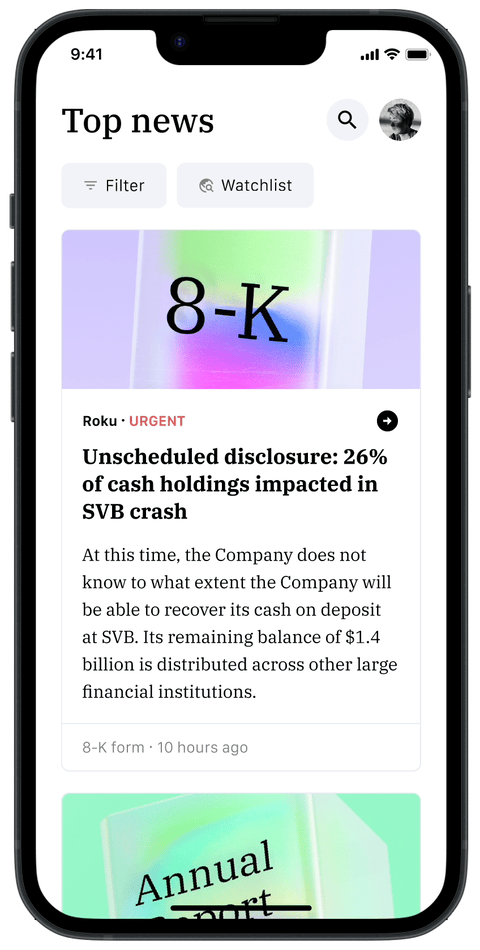 Wireframe


In this wireframe for the final app, I explored information architecture. To simplify the architecture, I grouped features into two main categories: browsing and reading. All features are found only one tap away from the home page.


---
Next steps and extension

In the next iteration of this project, I hope to add a feature to compare different versions of annual 10-k filings. I think that it will be useful for investors to compare subtle changes in languages in things like corporate mission statements.

While this wasn't my first project involving generative AI, this was a useful introduction to how I can use generative language-based AI in both conversational and graphical user interfaces. I hope to make more projects focusing on this looking forward.